xls.workbooks
The xls.workbooks table is a part of the SaveToDB Framework used to configure workbook templates.
Users can create new workbooks based on the templates using the File, New from Server... menu item.
Below is a wizard screen sample: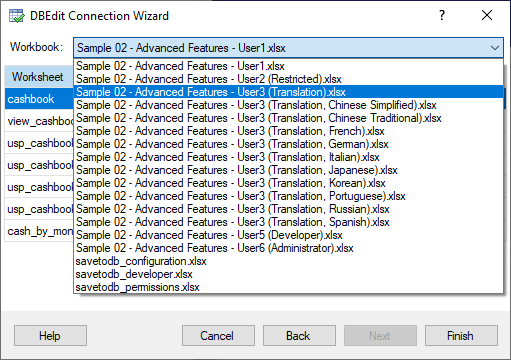 Below is a configuration sample:
The table has the following fields:
ID
NAME
TEMPLATE
DEFINITION
TABLE_SCHEMA
Use the NAME column to define a workbook template name shown in the wizard.
Use the TEMPLATE column to define a filename or URL of the Microsoft Excel workbook used as a template.
Use the DEFINITION column to define workbook worksheets, including connected object parameters.
Use the TABLE_SCHEMA column to store schemas to filter records.
Contrary to the SaveToDB add-in, DBEdit does not support using Microsoft Excel workbooks as templates. So, it ignores the TEMPLATE field values.
Also, DBEdit does not contain tools to create workbook definitions. You can create such definitions manually or using a free version of the SaveToDB add-in.
Below is a sample of the workbook definition:

cashbook=s02.cashbook,(Default),False,$B$3,,{"Parameters":{"account_id":null,"item_id":null,"company_id":null},"ListObjectName":"cashbook"}
view_cashbook=s02.view_cashbook,(Default),False,$B$3,,{"Parameters":{"account_id":null,"item_id":null,"company_id":null},"ListObjectName":"view_cashbook"}
usp_cashbook=s02.usp_cashbook,(Default),False,$B$3,,{"Parameters":{"account_id":null,"item_id":null,"company_id":null},"ListObjectName":"usp_cashbook"}
cash_by_months=s02.usp_cash_by_months,(Default),False,$B$3,,{"Parameters":{"year":2019},"ListObjectName":"cash_by_months"}

If you do not need to specify query parameters, you can use a reduced form like this:

cashbook=s02.cashbook
view_cashbook=s02.view_cashbook
usp_cashbook=s02.usp_cashbook
cash_by_months=s02.usp_cash_by_months

Below is a formal grammar of the workbook definition:

<workbook definition> ::= <sheet definition>
    | <sheet definition> NEWLINE <workbook definition>

<sheet definition> ::= <sheet name> ' = ' <table definition>

<table definition> ::= <query object>
    | <query object> ',' <query list>
    | <query object> ',' <query list> ',' <query list enabled>
    | <query object> ',' <query list> ',' <query list enabled> ',' <address>
    | <query object> ',' <query list> ',' <query list enabled> ',' <address> ',' <query parameters>

<query list> ::= EMPTY | '(Default)' | <query list object> | <schema>

<query list enabled> ::= EMPTY | 'True' | 'False'