Gartle CRM
CRM Add-in for Microsoft Outlook
Gartle CRM features
Gartle CRM adds CRM-centric features to Microsoft Outlook.
The add-in combines all Outlook assets like goals, potentials, tasks, events, contacts, and emails at a single CRM tab.
The asset menus contain ready-to-use filters and views to activate Outlook folders in one click.
This helps to be focused and saves time on filtering data.
The email form region shows the previous sender's emails that helps to remember topics in one look.
You can open such emails in one click.
Also, the add-in applies contact's categories to incoming messages. So, you immediately see emails from your accounts, customers, and leads.
Of course, you can create more categories for your needs.
The add-in allows creating emails using templates from the ribbon and context menus that saves your time.
The add-in is available in English, French, German, Italian, Russian, and Spanish.
You can adapt element names to suit your terms.
Refer to the documentation to learn all the features.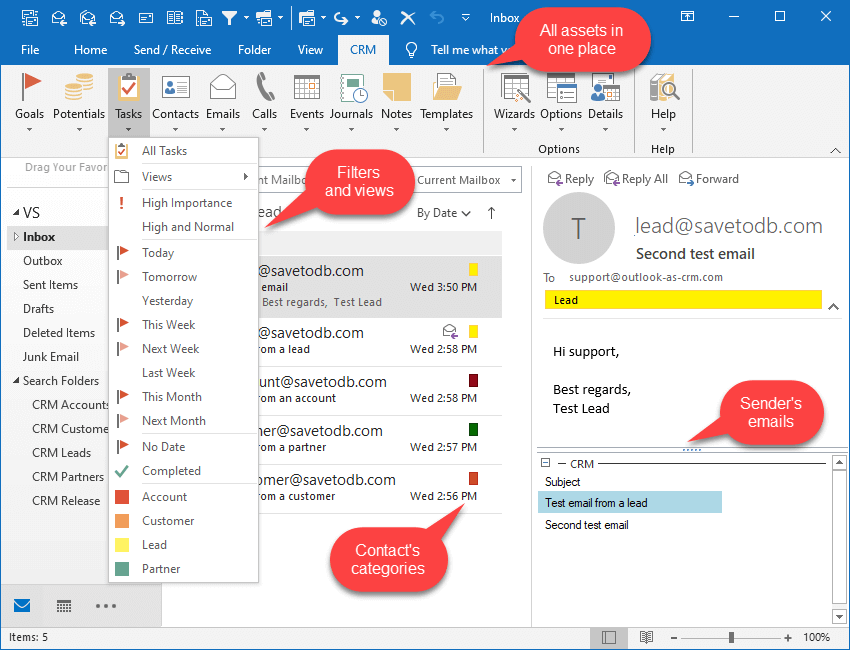 Download
To install the add-in, download the package, unzip it, close Microsoft Outlook and run setup.exe.
If you do not see the CRM tab, refer to readme.htm in the downloaded package.
Use Help, Register Product to activate the trial. You will have 15 days to try all the features.
See the documentation to learn all the features.
Prices
The full-time license costs 25 USD per computer.
Discounts apply when purchasing more licenses.
We also recommend purchasing the warranty to upgrade to the next major versions at no additional cost.