Appendix A. Planning Application Installation
Download
You can download the planning app at https://www.savetodb.com/download.htm.
The application also requires SaveToDB Enterprise 7.13 or higher. You can download the add-in here too.
Download Package
Unzip the downloaded package to a local drive.
Open the PlanningApp folder. It has the following content: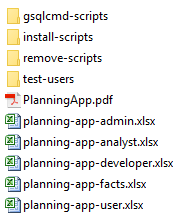 The folder contains application workbooks, this e-book, and folders with SQL scripts.
Installation
You can find the installation scripts in the install-scripts folder:

To install the application:
Create a database like PlanningApp.
Open and execute (F5) the savetodb-framework-install-en.sql script.
Open and execute (F5) the application-install.sql script.
You can do these steps using SQL Server Management Studio (SSMS).
If you do not have SSMS installed, you can use gsqlcmd scripts discussed below.
Installing Examples
You can install the Cash Flow and Cost Centers examples using the Actions menu in the MEMBER worksheet in the planning-app-analyst.xlsx workbook.
Installation using gsqlcmd
You can visit https://www.gsqlcmd.com, download and install the gsqlcmd utility.
This free utility allows executing SQL scripts using connections configured in a visual mode.
Open the gsqlcmd-scripts folder: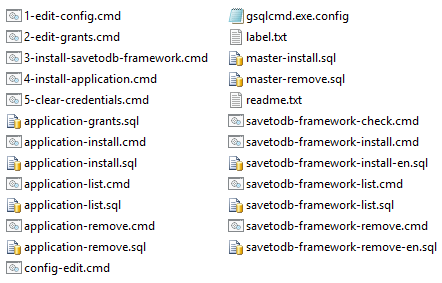 And execute the following batch files one-by-one:
1-edit-config.cmd
2-edit-grants.cmd
3-install-savetodb-framework.cmd
4-install-application.cmd
5-clear-credentials.cmd
The 1-edit-config.cmd open a visual connection string editor, gConnectionManager:

Click on the ... button and edit connection strings. Then click the Save button and close the editor.
You can use gsqlcmd scripts to uninstall the application also.
Just use application-remove.cmd instead of 4-install-application.cmd and savetodb-framework-remove.cmd instead of 3-install-savetodb-framework.cmd.
Test Users
If you install the application for test purposes, you can create test users used in the application workbooks.
Open the test-users folder: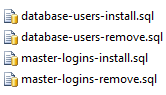 You have to open and execute master-logins-install.sql first against the master database.
Then open and execute database-users-install.sql against the planning application database.
The gsqlcmd scripts discussed above include these operations.
You can use database-users-remove.sql and master-logins-remove.sql files to remove test users.
Uninstalling
You can use the following files from the remove-scripts folder to uninstall the application:

Open and execute application-remove.sql first. Then open and execute savetodb-framework-remove-en.sql.
If you do not have SQL Server Management Studio (SSMS) installed, you can use gsqlcmd scripts discussed above.